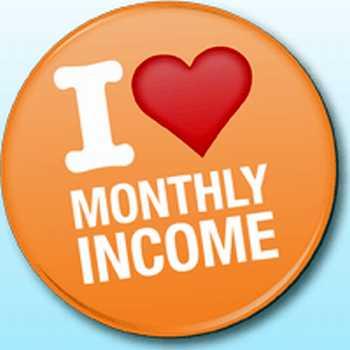 How do you feel about having a fixed income of Rs.19000+ every month for 5 years? Sounds, interesting. ?
Well, it's a very simple idea and best part you don't need to join any of those so-called investment programs, schemes, MLM or any of those stupid things. I have been explaining this to my relatives and friends since a long time and you know what, you can also have the tax exemption of Rs. 1,50,000 by implementing this.
I think everyone of you know what a Fixed Deposit is! A fixed deposit (FD) is a financial instrument provided by banks which provides investors with a higher rate of interest than a regular savings account, however investment amount is locked for a certain period. It is also known as a term deposit or time deposit. Interest rate is calculated on quarterly compounding in most banks.
In order to get fixed income every month for 5 years you are required to make an investment every month for 5 years. But what If you can claim the entire investment amount as a tax exemption and also generate monthly income for 5 years after the 5 years of investment period?
Keeping in mind the present tax exemption of Rs.1,50,000 per year, which comes out to 1,50,000/12 = Rs.12500 a month.
From the beginning of the economic year,
Do a Fixed Deposit of Rs.12,500 with 5 year lock-in period, also known as tax saver fixed deposits . This entire amount can be shown in tax exemption under Sec 80C.
Continue with Fixed Deposits of Rs.12500 same way every month, you can consider this as SIP which you will be doing every time you receive your salary. Once you have completed period of 12 months, you will have Rs.150000 in the form of Fixed Deposits with 5 year lock-in period and all of these can be used for tax exemption.
Great... You will repeat the same thing every month for 5 years. Every month you will do a fixed deposit of Rs. 12,500 for a period of 5 years.
For all the 5 years, you will be enjoying tax exemption on entire investment under Section 80C.
Next, You are now done with the investment part now time to relax and enjoy the returns. You will now be getting a fixed income of around Rs.19000 every month for 5 years.
In Doubt? Let me clear it.
Suppose you opened your first Fixed Deposit a/c of Rs.12,500 on 1st April 2010 then this will mature on 1st Apr 2015 and all the principal and interest which is would be around Rs.19000 will be credited your account automatically.
Your second Fixed Deposit opened on 1st May 2010 will mature on 1st May 2015 and so on....
Once you continue your investments for 5 years, not only you will enjoy the tax benefit on your investment, but you will also get a fixed income every month just like a salary for 5 years.
Unlike mutual funds, where returns can even be negative the returns generated under this plan are fixed, secured and fully reliable. Apart from this, there is no dependency on others, you can do your fixed deposits online or by visiting your branch once a month. If the interest rates given by your bank are low compared to others you can also choose to open a new bank account with some other bank to which you can transfer funds via NEFT or cheque every month and implement this Fixed Deposit plan there.
These days most of the people go with tax instruments like ULIPS, insurance or FDs in the last minute just to submit tax proof without planning properly. I believe a well-planned & implemented strategy right from the beginning of the economic year or throughout the financial year will fetch you the best returns over the longer time period.
The above explained plan will give you a fixed & secured income plus tax savings of up to Rs. 45,000 depending on your tax bracket. I feel you guyz can surely think and discuss about this plan with your friends/colleagues and implement this if you find it worthwhile.
Banks Paying Highest Interest on Tax Payer FD- Nomral/Senior Citizen
1) DCB BANK - 7.50%/8.00%
2) IDFC BANK
- 7.50%/8.00%
3) THE RATNAKAR BANK
- 7.70%/8.20%
4) UNION BANK OF INDIA
- 7.25%/7.75%
We advice to confirm above rates and check interest rate being offered by others banks as well before starting with the deposit plan.
Hope I was clear with this. Doubts/Feedback welcome in the comments. Do share this post with your loved ones if you liked it
Subscribe Now (It's FREE)